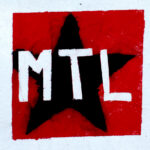 The «MTL» series is an ongoing project with a planned total of 25 banners of varying sizes, themes and styles.

The «MTL» banner series was initiated in Santiago de Chile (2016) as a live banner making perfomance within a conference organized by NYU's Hemispheric Institute of Performance and Politics. «Resistimos» was the first banner using a black star on a red square as a signature.
The «MTL» banners are made in solidarity with oppositional movements/actions that seek justice: access to education, opening borders, against corruption, land reclamation, against fascism, etc. A mandate I've given the series is to circulate the banners by lending them to protest movements for "drops" or for carrying within demonstrations.
It is both a personal creative project to explore the symbols that are omnipresent in protest culture: the raised fist, red square, megaphone. It is also a collaborative effort to create works of activist art that contribute to a shared oppositional cultural heritage.
=
=
=
=
=
=
=
=
=
=
=